Dr. Justin Dean is one of the top-rated chiropractors in Los Angeles. CA. Dr. Dean is top for back pain relief and whole-body injuries. He has been voted top ten chiropractors by Expertise.com and has over 100 reviews on google. His unique approach integrates cutting-edge techniques utilized by the best chiropractors, top academic researchers, and professional sports teams. This includes both manual therapy, chiropractic, and rehabilitation combined together so you can experience relief today.
His treatment approach includes both specific chiropractic techniques such as upper cervical adjustments as well as looking at the entire body's movement patterns and fascia which are updated after each visit.  This is how Dr. Dean creates an individualized Chiropractic treatment program to best address the needs of every patient. No standard cookie-cutter Chiropractor here.
Listed here are some techniques utilized in the office, so you experience relief today!
Stecco Fascial Manipulation
Fascial Distortion Method
French Osteopathic Joint pumping
French Osteopathic Fascial normalization
Dermal Traction Method (Co-Invented by Dr. Dean)
Transverse Nerve Mobilizations (Created by Dr. Dean)
Neurocentric Approach (Co-created by Dr. Dean)
Dynamic Neuromuscular Stabilization
Top Chiropractic Adjustment Techniques
Extremity Chiropractic adjustments
Functional Rehabilitation
Visceral Manipulation
Neurodynamics (nerve stretching)
Functional Chiropractic Neurology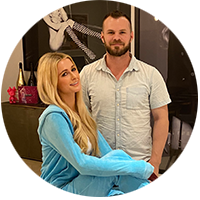 Dr. Dean fixed my chronic tension headaches in a visit and had me SLIVING (slaying + living) in no time!
Paris Hilton
Entrepreneur, DJ, Media Personality
Treatment with Dr. Dean includes a thorough exam and global movement assessment to identify tight muscles, weakness, or muscular imbalances which are paired with fascial integration to find the commonalities between movement and stiff connective tissue. When poorly controlled movement and stiff connective tissue (fascia) are present then nerve entrapments and eventually pain occurs. Address all of these imbalances at once and finish off the treatment with a chiropractic adjustment results in reversal of pain and dysfunction.
GET IN TOUCH WITH

DR. DEAN
YOU should be able to move the way you'd like to move without experiencing pain. YOU should be able to experience freedom and energy knowing there's nothing holding back from giving your life 110%. Dr. Dean would like to learn more about your challenges with a quick phone or email before beginning treatment. Contact him today.